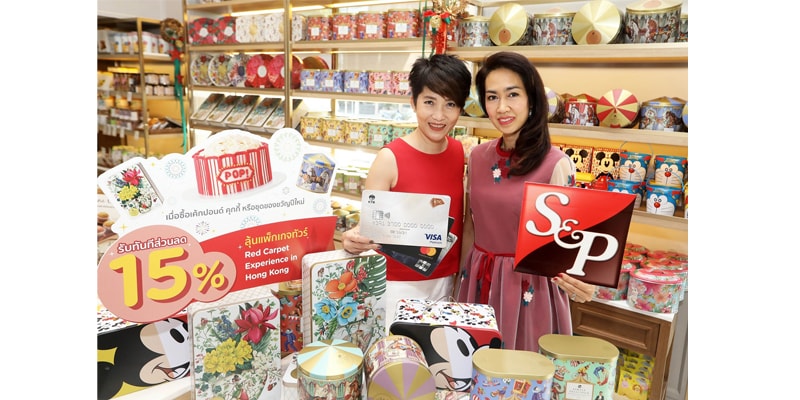 Mrs. Pranaya Nithananon, Vice President – Credit Card Business, "KTC" or Krungthai Card Public Company Limited, jointly with Mrs. Maneesuda Sila-on, Deputy Vice President - Corporate Communication, S&P Syndicate Public Company Limited, organize the "Celebrate Happiness with KTC Credit Cards at S&P" promotion to welcome the upcoming new year. Members receive up to triple privileges by making transactions using S&P Joy Card or KTC credit cards at all participating S&P and Bakery Shop branches from December 1, 2018 to January 10, 2019.
First privilege: instantly receive 15 percent discount off pound cakes, boxed cookies and the holiday hamper sets (excluding pieces of cake and cookie envelope).
Second privilege: redeem for additional 10 percent cash back with the redemption of KTC FOREVER REWARDS points equivalent to the amount of the transaction per sales slip (register every time for redemption via SMS by typing DN8 followed by a space, 16 credit card digits, the "#" symbol, transaction value with decimals to 061 384 5000.)
Third privilege: get a chance to win 10 Red Carpet Experience in Hong Kong package tours, an exclusive trip at world renowned amusement park in Hong Kong, for every purchases of a pound cake, cookies or holiday sets worth Bt. 1,000 or more (2 persons/prize) and S&P gift vouchers with a grand total worth of over Bt. 1 million.
For more information, please contact KTC PHONE 02 123 5000 or visit www.ktc.co.th, apply for a credit card at any "KTC TOUCH" branches or click link: http://bit.ly/2uPcS19.