(LASPP-005)
FREE Visitor Ticket to Grevin Museum & Discount up to 30,000 Won
1. FREE Visitor Ticket to Grevin Museum
Participating branches
Lotte Duty Free - Main Store (Myeong-Dong) Branch, COEX Store Branch, World Tower Store Branch
15 Jan – 31 Dec 17

2. Discount up to 30,000 Won
Get discount 5,000 Won when spending at the minimum of 50 USD
Get discount 10,000 Won when spending at the minimum of 100 USD
Get discount 20,000 Won when spending at the minimum of 200 USD
Get discount 30,000 Won when spending at the minimum of 300 USD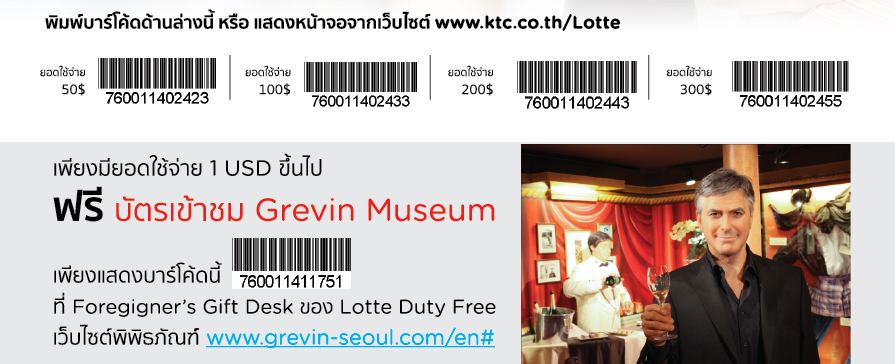 15 Jan – 31 Dec 17
Participating branches
- Seoul Downtown Store - Main Store (Myeong-Dong) Branch, World Tower Store Branch, COEX store Branch
- Airport Store - Incheon Airport Store Branch, Gimpo Airport Store Branch, Gimhae Airport Store Branch
- City Store - Busan Store Branch, Jeju City Store Branch
Terms and Conditions of FREE Visitor Ticket to Grevin Museum
Please present a passport and sales receipt valued at the minimum of 1 USD, together with barcode coupon to receive 1 Grevin Museum Visitor Ticket, at Gift Desk for Foreigner at Lotte Duty Free - Main Store (Myeong-Dong) Branch, COEX Store Branch, World Tower Store Branch.
Complimentary gift offer is limited. KTC reserves the right to change or cancel any terms and conditions without prior notice.

Promotion Terms and Conditions of Discount up to 30,000 Won
Please present barcode coupon and make a payment with KTC Credit Card to cashiers at all participating Lotte Duty Free branches.
Product purchase must be paid with KTC credit card altogether in one time per 1 entitlement. The combination of multiple sales slips is not acceptable. 1 Barcode Coupon is valid for 1 usage/day/branch.
Barcode coupon cannot be used with products with over 30% discount, nor may it be used with any other coupons or promotions.
The calculation of product price for discount will be processed in USD currency. The cardmembers however may choose to make a payment in any preferred currencies as determined.
Barcode coupon is not valid for discount at Louis Vuitton, Chanel, Cartier, Gucci, Bvlgari, Hermes, Sulwhasoo, and any other non-participating shops. For more information, please contact the selling points.
The company reserves the right to not re-issue a barcode coupon if product purchase has been cancelled and the refund has been processed.
The cardmembers may download a barcode coupon from KTC website only.
Promotion terms and conditions are subject to Lotte Duty Free.
This privilege is reserved for personal tourists (not for tour group).
KTC reserves the right to change or cancel any terms and conditions without prior notice. In the case of a dispute, KTC's decision is deemed final.
This promotion will end by December 31st, 2017.