Verified by Visa
Apply via KTC website (Web Enrolment)
Main menu is used for registration/enrolment to the Secured e-pay system. The system will be initially displayed in Thai language. To view the page in English version, click at the language toggle on the top right corner of the screen to display all enrolment pages in English version. Then, click "Register" button to enter to enrolment screen.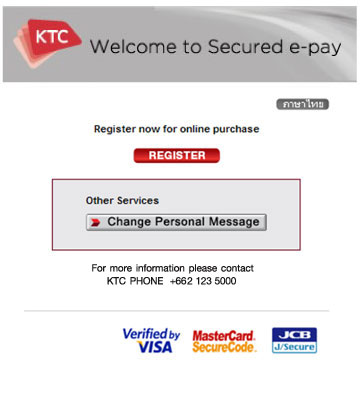 Step 1 Enter your KTC credit card number.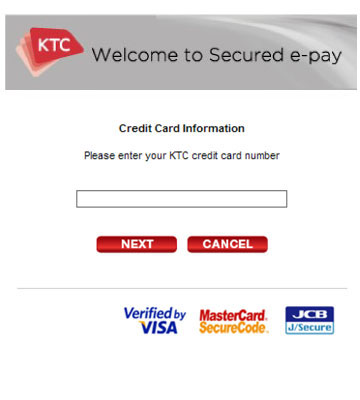 Step 2 Enter your personal and credit card information for identity verification.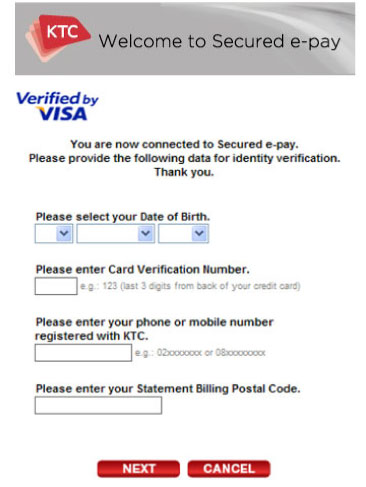 Remarks;
Should you made more than 3 wrong answers, system will prohibit online payment
In that case, please kindly contact KTC PHONE 02 123 5000
Step 3 The system will lead you to "Terms and Conditions" page for you to read carefully and wait for your acceptance. Click "Accept" button to accept the terms and conditions of using the Secured e-pay service and go to the next step.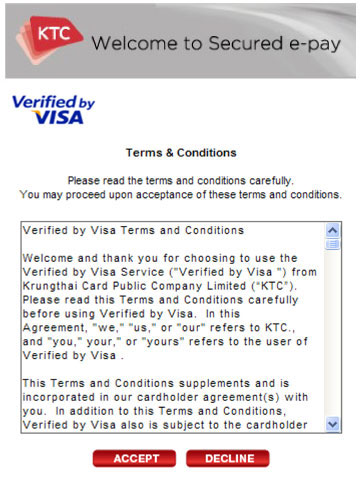 Step 4 The system will let you assign your Personal Message which will then be used for next online payment on the registered 3-D Secure online shops. Then enter your mobile phone number registered with KTC to receive OTP-SMS and select your OTP-SMS language. Click "Next" button to go to the next step.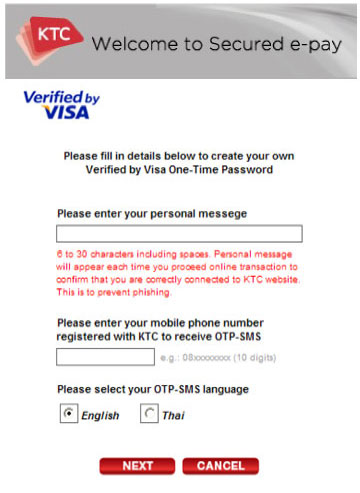 Step 5 The system will display a message to inform that OTP-SMS will be sent (system will display the last 4 digits of the mobile phone number). Then enter received OTP-SMS password to validate your registration and click "Next" button to go to the next step.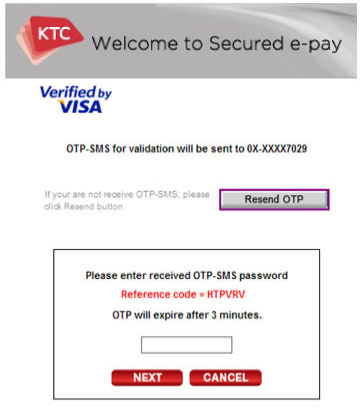 Remarks;
Please ensure you enter the correct OTP by refer to the Reference code on the screen and on your received OTP.
In case that you did not receive SMS-OTP please click "Resend OTP" button to request a new SMS-OTP.
If you input incorrect OTP more than 3 times, system will prohibit online payment.
Step 6 System displays your registration result.