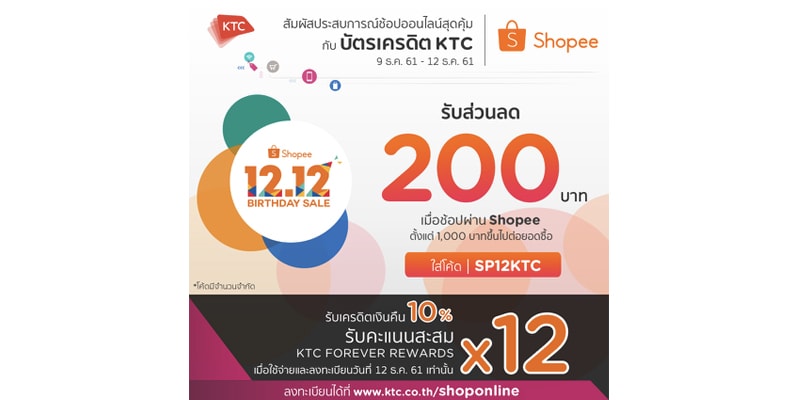 "KTC" or Krungthai Card Public Company Limited, partner with "Shopee," the leading e-commerce platform in Southeast Asia and Taiwan, to celebrates its anniversary with Shopee 12.12 Birthday Sale campaign. Members experience worthwhileness with double special privileges for purchases of products using the "Shopee" application or www.shopee.co.th between December 9 - 12, 2018. First privilege Bt. 200 discount for purchases of products worth Bt. 1,000 or more per transaction using KTC credit cards and apply "SP12KTC" discount code. Second privilege redeem for 10 percent cash back and X5 KTC FOREVER rewards points everyday or redeem for 10 percent cash back and X12 KTC FOREVER rewards points for transactions at Shopee and register on December 12, 2018 only.
Moreover, members may redeem 1,000 KTC FOREVER rewards points for Bt. 200 Shopee discount code through the "KTC Mobile" application between December 9 - 11, 2018 (originally 2,000 points).
For more information, contact KTC PHONE 02 123 5000 or get updates on other KTC online promotions at www.ktc.co.th/shoponline, the largest source for commercial alliance discount codes. To register for a KTC credit card, click link: http://bit.ly/2uPcS19 or visit any "KTC TOUCH" branches.