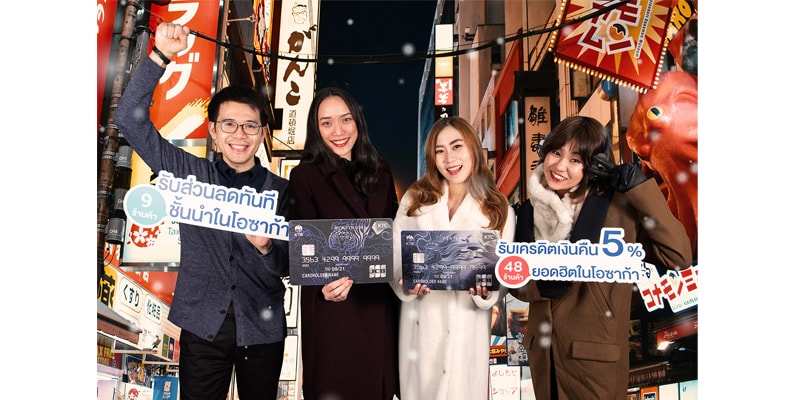 Miss Sudchavee Banjobdee, Senior Manager – Credit Card Business, "KTC" or Krungthai Card Public Company Limited, jointly with Miss Tharinee Wongwattanun, Senior Marketing Manager, JCB International (Thailand) Company Limited, invite KTC JCB PLATINUM credit cards to make their travel plans at "Osaka" Japan's hot travel destination. Members enjoy shopping with worthwhileness with two special privileges for making transactions using KTC JCB PLATINUM credit cards at participating stores at "Osaka" Japan, including:
Receive up to 10 percent discounts from nine leading alliances, including Kansai Rail Pass / AEON Mall Rinkusennan / Bic Camera Namba Store / Daimaru Shinsaibashi / Don Quijote / LaLaport Expocity / Takashimaya Osaka Store / Yamada Denki Lab1 and KIX Duty Free between November 1, 2018 - March 31, 2019.
Receive 5 percent cash back for making transactions with an international currency using KTC JCB PLATINUM credit cards at 48 participating stores (with a restriction of Bt. 300 per sales slip/card) including Shopping stores: ABC Mart / Anello / ASICS / Lush / Pokemon Center and Skechers Shinsaibashi, Restaurants: Kani Douraku / Daiki Suisan Kaiten Sushi / Mizuno / Kushikatsu Daruma / Isomaru Suisan and PABLO between November 19, 2018 - March 31, 2019.
For more information, please contact KTC PHONE 02 123 5000 or visit www.ktc.co.th, apply for a credit card at any "KTC TOUCH" branches or click link: http://bit.ly/2skCwZ8.