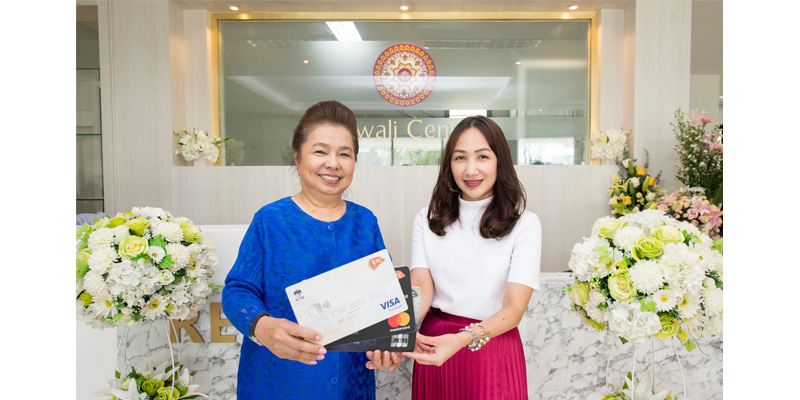 Ms. Chosita Dhepyasuvan (right), Manager – Credit Card Business, "KTC" or Krungthai Card Public Company Limited, captures Thailand's trend in becoming a full-fledged Aged Society in 2021, jointly with Ms. Kittima Hathirat (left), Founder of Diwali Center, a holistic and full-service Anti-Aging Medicine Center, in providing promotions for KTC credit card members who purchase service packages at Diwali Center. The privileges include 1) 222 hidden food allergy and intolerance testing program by Prof. Pimjai Naigowit, and food consulting by Dr. Sirichai Adisakwattana; 2) Annual physical exams; 3) Operative therapy to balance body structure; 4) Hydrotherapy; 5) Exercise and recreational activities; 6) Diwali Center accommodation with food and personal caregiver; 7) Domestic sigh seeing trips and 8) Diwali products at a net price of Bt. 200,000 from originally Bt. 348,000 campaign offers during March 1, 2019 to April 30, 2019.
Information for Editors:
Diwali Center is a health care service center for elderly who looks for a good health. The Center offers services that promote holistic and comprehensive health upon three acres across Don Mueang International Airport and is structurally safe with tools that comply with international standards that facilitate conveniency to elders. Diwali prioritizes preventive service measures by providing knowledge about nutrition principles to prevent chronic disease, including diabetes, high blood pressure, Alzheimer's disease, Osteoporosis, balance and movement. Activities are selected and catered to each individual. Services are provided by a team of direct rehabilitation physicians, nurses, physical therapists, nutritionists and well-trained caregivers. Diwali is akin to a new society and a first in Thailand to provide full-service care to elders to rebalance patients physically and mentally.
For more information, please contact 089 261 6163 or KTC PHONE 02 123 5000 or visit www.ktc.co.th, apply for a credit card at any "KTC TOUCH" branches or click link: http://bit.ly/2skCwZ8