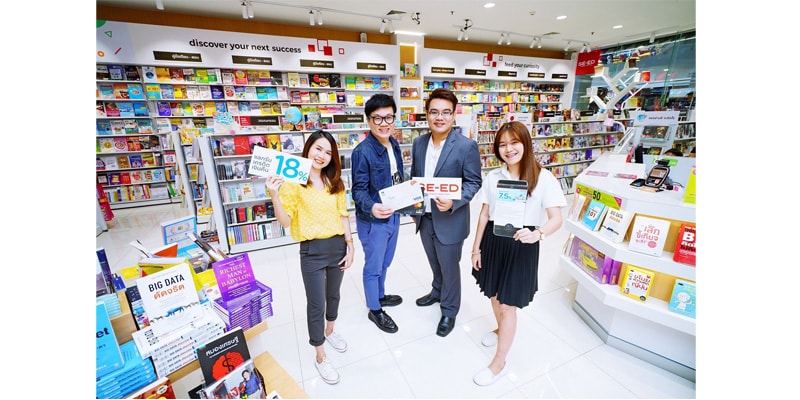 Mr. Terapoj Chokeanantang, Senior Vice President - Credit Card Business, "KTC" or Krungthai Card Public Company Limited, - in association with Mr. Niwat Vadhanasirimon, Assistant Director of Corporate Marketing, SE - EDUCATION Public Company Limited, support the "Thais Love Reading" policy of Thailand by offering 4 privileges to KTC cardmembers when they spend with KTC credit cards at SE - ED book center every branch nationwide. during 1 December 2018 – 30 June 2019.
Privilege 1: Get 7.5% discount (with point redemption) via feature E - Coupon on KTC Mobile app when redeeming 1 KTC FOREVER point for discount coupon to pay for any books with KTC credit cards at the store with no minimum spending and from any publication.
Privilege 2: Get 18% cash back (with point redemption) when spending every 500 Baht and redeeming every 500 KTC FOREVER points and simply make a registration by sending SMS: type SE, space following by 16-digit credit card number and send to 061-384-5000.
Privilege 3: Enjoy 3 months 0.69% interest installment payment with KTC by KTC PHONE 02 123 5000 within the goods purchasing date.
Privilege 4: Get free SE-ED Inspiration Card membership when spending with KTC credit cards with no limit of spending amount (1,000 Baht minimum).
For more information, please contact KTC PHONE at 02 123 5000 or website www.ktc.co.th. To apply for KTC credit cards, please contact cardmember center at KTC Touch, any branch, or click the link http://bit.ly/2uPcS19.