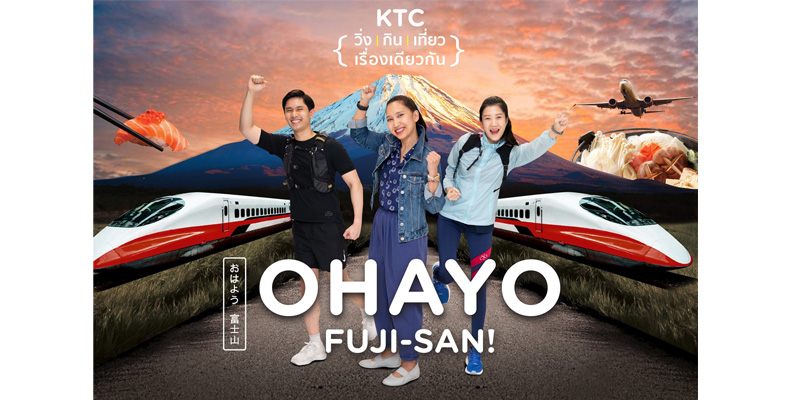 Ms. Sireerat Corvanich, Vice President - Credit Card Business, "KTC" or Krungthai Card Public Company Limited, organizes the "Run - Eat - Travel" Ohayo Fuji San! episode campaign to continuously please cardmembers who are runners for the second year. Cardmembers earn a chance to win the Run - Eat - Travel in Japan grand prize package simply for every transactions made valued at 1,000 Baht using KTC credit cards at participating merchants in the Sports and Fitness category. Registration is required through one of the following methods: 1) Type RT followed by a space and 16 credit card digits to 061 384 5000 (3 Baht/message) or 2) www.ktc.co.th/RT from November 1, 2019 to February 29, 2020.
"Run - Eat - Travel" Ohayo Fuji San! 5 nights 3 days package for two persons (6 available prizes) with a grand total worth of 900,000 Baht comprises of Japan Airline flight tickets, which will take lucky prize winners to embark on a 16 kilometer run on fascinating routes including around the beautiful Lake Kawaguchiko, one of Fujisan Marathon's routes, and run among the environment on stunning Misutoge hill with a 360 degree close-up panorama view of Mt. Fuji 1,700 meters above water. Lastly, the trip will close with an easy run in a park located in the center of Tokyo in the Harajuku district, follow the challenging competition of the Tokyo Marathon, sports equipment shopping at leading brands, and dine deliciously at a buffet with unlimited crab legs and grilled menus.
For more information, please contact KTC PHONE 02 123 5000 or visit www.ktc.co.th/sport, apply for a credit card at any "KTC TOUCH" branches or click link: http://bit.ly/2uPcS19. #UnlimitedBlissful with KTC Card.